Introduction to Boat Fishing
Let's make necessary preparations to enjoy boat fishing safely.
Then let's enjoy boat fishing (when you get ready) !
1
Let's check the outfit and necessary items.
・Life jacket(※)
・Fishing Rod Bag (Fishing Rod, Fishing Reel)
・Bag (Food, Drinks, Towel, Raincoat)
・Tackle Box (Spreaders, Sinkers, Rigs, Fishing Scissors )
・Cap (Hat), Shoes with Slip Resistant Soles, Fanny pack
・Cooler, Ice
<Useful Items>
Fishing Scissors, Fishhook Removers, Sticking Plasters, Plastic Bags for Trash, Small Pliers
※About wearing a life jacket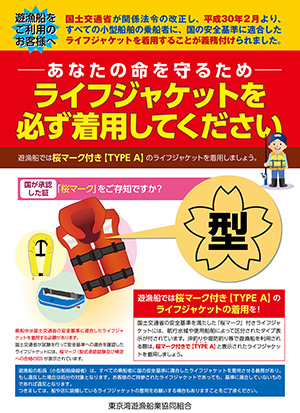 Every small boat passenger is required to wear a life jacket by law in Japan from 2018.
Click here
for further information.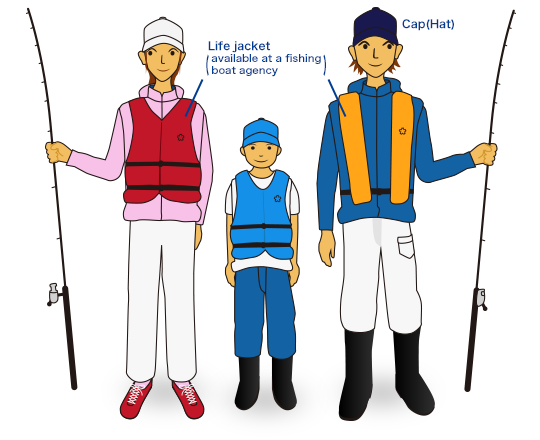 2
Let's board a fishing boat
1. Pay a fee and get a boarding pass.
2. Get necessary rigs and bait.
3. Remember to carry some ice.
4. Go on board.
5. Watch your step when boarding a boat.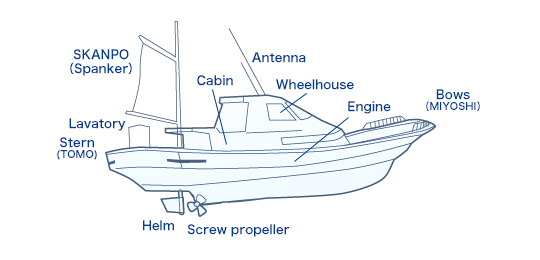 3
Safety comes first during boarding
1. Always wear a life jacket while on board.
2. Follow the captain's instructions anytime.
3. Don't stand when the boat is in motion.
4. Watch your step and use the railing when moving from your seat.
5. Feel free to ask the staff about unfamiliar things on fishing.
6. Consideration and good manners for other anglers are important to enjoy fishing.
7. Never dump your trash or unnecessary things into the sea.